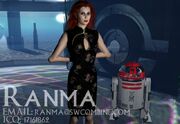 Ranma Saotama is an administrator in the Star Wars Combine. Prior to becoming an administrator, Ranma was an active member of the Galactic Empire.
On Year 1 Day 208, Sim Master Fizzban appointed Ranma to be the Chief Editor of the Star Wars Combine; his main responsibility being updating the news page. From there Ranma took over additional functions as administrator. He dropped his female character and became full time Administrator and Assistant Sim Master (ASim) on Year 1 Day 305.
In-Character Background
Edit

Graduating from school with top marks, Ranma married her fiance Akane Tendo, before seeking a career in the Imperial Army where she wanted to put to use her knowledge as well as her considerable martial arts skill.
Around Year -1 Day 110 Ranma joined the Imperial Army. She started out as a member of 1st Recon squad and her outstanding contributions were soon awarded with a Recon Award of Merit and a fast career that made her Executive Officer (XO) of the Recon Branch of the Army. With the introduction of the territorial organization of the Army she became XO of 2nd Quadrant Army under Command General Cherokee. When the position of Command Coordinations Officer (CCO) was created as third in command for the Imperial Army, Ranma was the candidate of choice.
Her career took a new direction, when she left the Army to become Director of the Imperial Assignment Office (IAO) and later Minister of Assignment. This was shortly before she received a call that let her to side with Grand Admiral Gorn Veynom to battle a danger that threatened not only the Empire, but the whole galaxy. She left for the Unknown Regions and has not returned since.

Community content is available under
CC-BY-SA
unless otherwise noted.