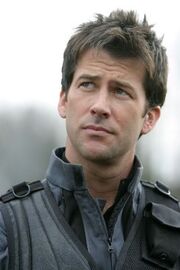 Alexander Weston
Biographical information
Homeworld

Corellia

Physical description
Species

Corellian

Gender

male

Height

6'1"

Hair color

brown

Eye color

brown

Chronological and political information

  [Source]

Alexander Weston was born in orbit around Corellia and was raised on the world. He grew up with a young Twi'lek named Kat'la. They spent so much time together they were practically brother and sister.
When they both came of age they chose different paths. Alex went on to become a combat medic and hasn't seen or heard from Kat'la since.
Alex spent seven years as a combat medic until he grew tired of all the fighting and killing that would happen around him. As well as trying to save the wounded while more men would die around him as he did. He still has trouble sleeping sometimes due to the memories of what he had been through.
About two years after that he went to Ryloth in an effort to find Kat'la and catch up. Where as he didn't find Kat'la he stopped by the Enki and met a young Twi'lek named Chir'da Al'dira. He instantly took a liking to her and decided to help her with getting off of Ryloth.
Personality
Edit
Alexander Weston is a capable solider but an unwilling one. He's the type who would help and heal before fighting. And use words before blasters. But when pushed to it he is more then willing to fight in order to protect those he cares for. He is also the type to look on the bright side of things.
Community content is available under
CC-BY-SA
unless otherwise noted.